5 Tips to Improve Your Email Marketing Campaigns
---
Are you hitting a wall with your email campaigns? Are your open rates not where you want them to be?
With the current digital climate of constant engagement with content, a consumer's attention is harder to capture than ever. Email marketing has been proven to have the highest ROI and conversion rate than any other type of digital marketing.
In order to have success with email marketing, you must build a base of loyal subscribers, capture their attention, and share your brand story with them to convert them to paying customers.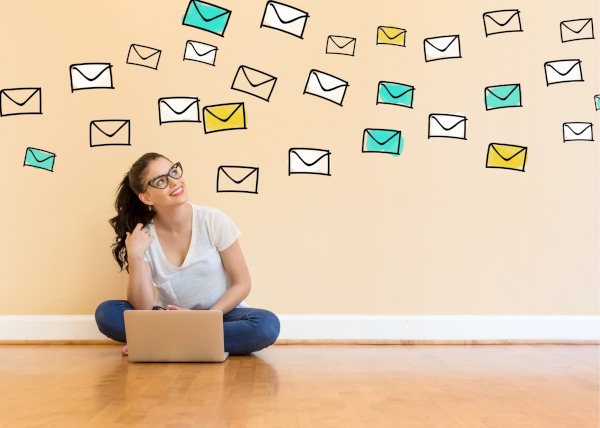 Accessing the amazing resource of email marketing takes time. Every brand must develop their own voice to connect with their consumer community. Genuine interaction with your subscribers is key, along with some simple tricks to up your email game. With the following 5 tips, we'll help you on your way to success with your email marketing campaigns.
1. Use Drip Campaigns to Convert Leads to Customers
If you haven't heard about drip campaigns by the time you're reading this, you're far behind on your email marketing game! They're one of the most successful ways to gain subscribers, capture their interest, and convert them to paying customers.
Drip campaigns create a customer journey from the moment they subscribe to your list to the moment they become a paying customer of your brand, and can continue on after to keep them loyal to your brand.
You can set up a drip campaign to automatically send emails on a timeline based on when the customer signs up. Little by little, you send them drips, or emails, that will lead them closer to trusting your brand. Imagine it as a funnel, with the largest part of the funnel being cold leads, or people who have just signed up for your list without purchasing anything.
As you go down the funnel, you slowly provide the potential customer with more information, background, and benefits to purchasing from your company. This will lead them slowly to the spout of the funnel, which is when they decide they trust your company enough to spend their hard earned money on what you offer.
The point of a drip campaign is to gently convert potential customers without overwhelming them or turning them off with aggressive sales tactics. Hard selling is a thing of the past. If you want to convert customers, you need to form a relationship with them. Drip campaigns are a great way to do this.
2. Grow Your List Through a Special Discount
You can rapidly grow your email list by offering a sign up discount to new subscribers. You can even add a widget to your site that will send a popup with a discount in exchange for an email subscription as the user's mouse hovers closer to the x to leave the page.
Online consumers are overwhelmed with content, and therefore the moment you've captured their attention is incredibly short. Using this technique will help you capture that potential customer before they're off your page forever.
3. Create a Sense of Community and Exclusivity
Community is the name of the game when it comes to email marketing campaigns. Getting an online shopper to sign up for your email list is hard, but keeping them as a subscriber is even harder.
One way to keep your email subscribers interested is to offer exclusive perks and bonuses just for being on the list.
Make it known when the user signs up that email subscribers get access to exclusive sales and sneak peaks on exciting brand releases. This provides the subscriber with value in exchange for their attention. Make sure to keep the promises you make! Continue to provide the exclusive content to email subscribers on a regular basis so they don't feel like they've been duped.
4. Create Email Marketing Campaigns that Stand Out
If you're putting together a Valentine's Day promotional email in early February with gift ideas and discounts, you're wasting your time. Chances are, your subscriber will open their inbox on that day in February and see your unread email along with 5 other Valentine's Day themed marketing emails. They are all likely to go directly in the trash.
Your biggest challenge with email marketing will be to stand out from the crowd. You are marketing to consumers who consume thousands of digital images, read tons of web content, and see hundreds of advertisements online every single day. Be original. Is there something special about your brand? Share it!
Before you hit send on that email campaign, ask yourself: what about your email will keep your subscriber from deleting it immediately or worse… unsubscribing? Even more importantly, once the subscriber opens the email, what about that flash of content will help them connect to your brand and remember you in the sea of digital noise?
5. Ensure That Your Emails are Optimized For Mobile
81% of emails that are opened today are opened on a mobile device. If your email displays incorrectly, that puts you at a strong disadvantage. Before you send an email blast that you've completed, be sure to test it across many devices. Open the email on your mobile device, desktop, and iPad if possible.
Because of user preference for mobile when reading emails, it's a good idea to use a responsive email template. This allows you to create an email with a beautiful design but also send it as HTML. This ensures that the email adjusts to every device and still displays without issue.
There are also ways to leverage the mobile email format. The preheader text is much more prominent on mobile, making it just as important as the subject line. This gives you double the opportunity to catch the viewer's attention. The subject line is used to capture the user's attention, therefore, the subheader should lead into valuable information for the consumer, which will make them much more likely to open the email that caught their attention in the first place.
Create Better Email Marketing Campaigns Today
We hope these tips have helped you on your journey to brand growth through successful email marketing campaigns. Email campaigns can become your greatest resource and most successful marketing tool if used correctly.
---
Published on 10 Mar 2021
Author: Olivia Pasquarelli